Your healthcare business probably knows how difficult it can be to keep up with digital transformation.
The hardest part is deciding which emerging technologies are worth investing in and getting your team on board with the change. To adapt to the digital era, we need to adopt a flexible, risk-taking mindset. Disrupting business processes means letting go of outdated business practices and trusting that they will yield results. Here is a quick recap before we dive deeper into this topic.

Digital transformation in healthcare is the positive impact of technology in healthcare.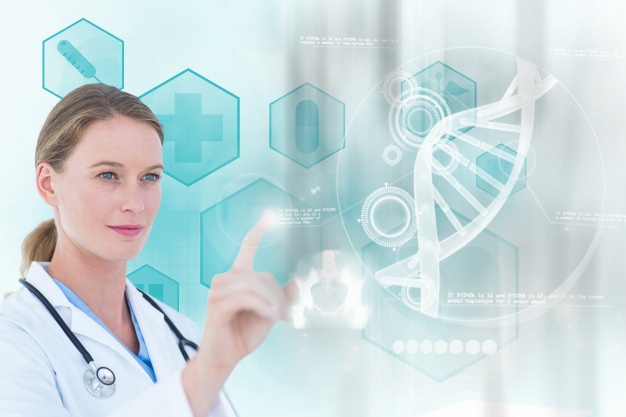 Here's why: Telemedicine, artificial intelligence (AI)-enabled medical devices, and blockchain electronic health records are just a few examples of digital transformation in healthcare that are completely reshaping the way we interact with health care providers, share health data, and make decisions about our treatment plans.
Innovative solutions streamline physicians' work, optimize systems, and improve patient care outcomes, lowering costs through streamlined web and mobile experiences.
Healthcare and pharmaceutical companies have been slow to adopt digital strategies. You read that right!
The amount of digital transformation in healthcare and pharmaceuticals is much lower than the amount in other industries, according to a recent survey.
Despite that, the U.S. healthcare market is enormous; with national health, spending projected to reach $5.7 trillion by 2026. There's still time for you to get well-versed in digital technology and use it to bring in more business. But in order to transform your standard practice into a thriving, digital machine in 2021, you first need a comprehensive picture of the modern healthcare landscape.
Patients benefit from virtual reality tools, wearable medical devices, telehealth, and 5G mobile technology. On the other hand, doctors can streamline their workflows using artificial intelligence.

A closer look at digital transformation in healthcare in 2021:
Immobilized businesswoman with protective mask working in new normal business financial company typing on pc, checking reports, analyzing data looking at desktop sitting in a wheelchair.
1) The rise of on-demand healthcare (why patients want healthcare on their own schedule)
On-demand means that consumers want things when, where, and how they want them. As patients demand on-demand healthcare due to their busy schedules, the healthcare industry is entering a new era of innovation. Mobile is especially important when considering content marketing.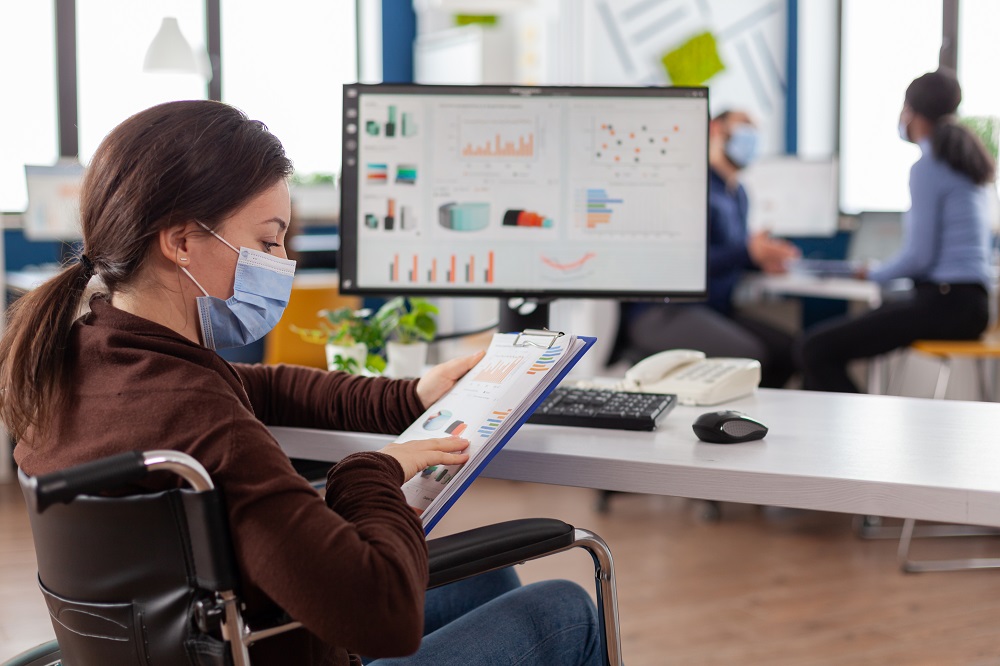 People have simply become far more mobile in the past decade. Mobility is the name of the game, and recent statistics show that more than 50% of all web browsing in the world occurs on mobile devices as of 2018 (to be exact, 52%).
One of the first rules of content marketing is that you must identify where your targeted consumers gather and reach them on those platforms, i.e. mobile. That's not surprising given that 77 percent of U.S. residents own a smartphone. On top of that, the number of mobile phone users in the world is expected to pass the five billion mark by 2019.
According to DMN3, consumers are going online to obtain medical information for the following reasons:
47% of research doctors

38% research hospital and medical facilities

77% book medical appointments
2) The importance of big data in healthcare
The concept of big data involves aggregating information from various sources such as social media, e-commerce, online transactions, and financial transactions, and identifying patterns and trends for future use.
For the healthcare industry, big data can provide several important benefits, including:
Lower rate of medication errors – through patient record analysis, the software can flag any inconsistencies between a patient's health and drug prescriptions, alerting health professionals and patients when there is a potential risk of a medication error.

Facilitating Preventive Care – a high volume of people stepping into emergency rooms are recurring patients also called "frequent flyers." They can account for

up to 28% of visits

. Big data analysis could identify these people and create preventive plans to keep them from returning.

More Accurate Staffing – big data's predictive analysis could help hospitals and clinics estimate future admission rates, which helps these facilities allocate the proper staff to deal with patients. This saves money and reduces emergency room wait times when a facility is understaffed.
With a better grasp of the market, your healthcare marketing and sales teams will have an easier time identifying your ideal consumer. And a big part of that is creating a customer persona, which compiles demographic information on what your prospects want and need, and the platforms where you can reach them.
3) Treating patients with virtual reality
If you told people ten years ago that you could reduce their pain with a device similar to a video game, they would have stared blankly at you. Meanwhile, Virtual Reality (VR) is the pièce de résistance of digital transformation in healthcare in 2018. The myriad of applications is profoundly changing the way patients are treated.
Here's the thing: millions of people are still struggling with chronic pain. According to the CDC, 50 million U.S. adults had chronic pain in 2016. For them, VR is a safer, more efficient alternative to drugs. VR is not only being used to treat pain, but also anxiety and post-traumatic stress disorder.
VR's proven capabilities in the medical field are just a fraction of what's available. Doctors and residents can also use virtual-reality simulations to hone their skills or plan complicated surgeries. Wearing a VR headset could also encourage people to exercise and help children with autism learn how to navigate the world.
From startups to pharma giants, everyone is betting on VR and there are numbers to back them up. If you're a healthcare company and planning for hire the best digital marketing company in Canada. In digital marketing strategy, you should highly consider investing in this technology.
VR is a powerful communication channel that, among other things, would allow you to better understand your customers' needs and engage them virtually.
4) The growth of wearable medical devices
In addition to the use of medical devices to collect health data, companies are collecting data from wearable technology such as smartwatches.
Patients would mainly check-in with their doctors when something went wrong, and they would undergo a physical-only once a year.  
Some of the most common of these devices include:
Heart rate sensors

Exercise trackers

Sweat meters – used for diabetics to monitor blood sugar levels.

Oximeters – monitors the amount of oxygen carried in the blood, and is often used by patients with respiratory illnesses such as COPD or asthma.
Other benefits for healthcare companies who invest in these products:
Personalizes the healthcare experience – medical devices give patients a sense of ownership in the process of improving their health.

Targets insurance pricing – information obtained from wearable devices can help insurers more accurately rate a patient's risk for illness.

Provides insurance incentives – patients who take preventive measures to improve their health can obtain lower insurance premiums.

Provides gamification opportunities – some medical devices such as fitness watches can create competitive goals for users to achieve through exercise, diet, and nutrition. 
Furthermore, wearable technology can also help healthcare companies save money.
5) Predictive healthcare
Earlier, we discussed how big data could provide healthcare companies with predictive analysis about admission rates and help them appropriately staff their facilities. Another factor contributing to the digital transformation in healthcare is predicting which diseases will become major problems in the future.
Using Big Data and other marketing sources, healthcare companies can develop recommendations for healthy lifestyles for their patients.
An analyst could, for example, analyze keyword searches across social media channels and major search engines to determine the most common searches for medical conditions, illnesses, and general health. The analyst can then develop a predictive model that anticipates how your company can prepare for the next big health scare and when it will happen.
Smaller businesses, however, might benefit from predictive analysis by determining when their needs for temporary help might arise due to expected cold and flu outbreaks.
6) The wonders of artificial intelligence
Artificial intelligence (AI) is more than just a digital transformation trend in healthcare. AI represents the epitome of medical innovation and industry players are eager to invest millions in it. The healthcare AI-powered tools market is expected to exceed $34 billion by 2025, which means this technology will shape almost all facets of the industry.
Virtual health assistants and chatbots are other AI-based technologies that patients are becoming familiar with. From customer service representatives to diagnostic tools and even therapists, chatbots can fill a multitude of roles. Their versatility is being translated into heavy investments.
But the real power of AI can be best observed in areas like precision medicine, medical imaging, drug discovery, and genomics. For instance, cancer patients used to receive cookie-cutter treatments with high failure rates. Now, thanks to AI's sophisticated pattern recognition, these patients have access to personalized therapies tailored to their genetic makeup and lifestyle.
To put it simply, these AI-powered computer programs are capable of analyzing thousands of images of cancer pathology in order to identify the best possible treatment options. Radiologists use this technique to detect details that would be missed by the naked eye in medical image diagnostics.
7) Blockchain and the promise of better electronic health records
Due to the burst of the cryptocurrency bubble, blockchain has recently earned a bad reputation. Currently, most people think of blockchain as vague, puzzling technology that doesn't affect them nearly as much as they might like. It is likely that this technology will soon play a vital role in keeping their electronic health records accurate and secure.
The blockchain is a digital ledger or a computerized database of transactions. Through the use of a network of computers, it allows customers to exchange financial information with suppliers without the use of a third party, such as a bank.
The healthcare and pharmaceutical industries are already vouching for its efficiency by investing millions in this market. An electronic health record (EHR) is basically the digital version of a medical chart and includes everything from a patient's medical history and diagnoses, to treatment plans, immunization dates, and test results. It also contains their home address, previous workplaces, as well as financial information like credit card numbers.

Yet, as valuable as they are, hospitals are falling short in managing their EHRs. 
Currently, medical data is recorded in unstructured formats and spread across multiple EHRs. With limited staff, doctors and nurses struggle to manually enter every bit of information. Duplicate medical records, misdiagnoses, delayed treatments, and even deaths are caused by this practice.
Blockchain technology is being tested in some countries such as Australia and the UK to manage medical records and transactions between patients, healthcare providers, and insurance companies. Conflicting information is automatically detected due to a decentralized network of computers that handle the blockchain and simultaneously register every transaction. Records are not only 100% accurate, but also harder to hack.

5G mobile technology for instantaneous healthcare
Regarding health in the palm of your hand or in your pocket…As wireless technology advances, so does the delivery of medicine.
5G enhanced Mobile BroadBand (eMBB) was introduced by Qualcomm, the world's largest mobile chipset supplier. It is considered the catalyst for the new mobile industry revolution.
The technology can run up to 100 times faster than the current cellular connection, which made industry experts confident that it will completely change the healthcare landscape and lead to savings of up to $650 billion by 2025.