Ola requires no introduction. Ola is India's first cab aggregator company, making it easy to hire a cab. ANI Technologies Pvt. Ltd. owns the company. Ola, formerly known as OlaCabs, was founded by two graduates of IIT Bombay in December 2010. The Ola service bridges the gap between cab owners and commuters.
Rather than buy and rent its own cars, Ola partners with drivers and owners of taxis and adds a modern touch to the whole process. Through Ola's app, users can book cabs at short notice. The Ola ride-hailing app has almost 60% market share in India (as of 2014). It has users in 100 cities throughout India and employs 15 lakh drivers.
With its hyper-local approach, Ola is committed to its mission of building mobility for a billion people. The company has also started offering services for auto and bike rentals, keeping its mission in mind. In 2017, Ola launched a bicycle sharing service called Ola Pedal to facilitate last-mile connectivity.
The following is a detailed company profile of Ola:
On January 20, 2021, Ola announced that they were building India's most advanced manufacturing facility using Siemens' Digital Enterprise.


For the construction of its upcoming electric vehicle manufacturing facility, Ola has partnered with Siemens. OLA has signed an MoU with the government of Tamil Nadu to invest around INR 2,400 Cr towards building the facility.

It is expected that the factory will produce around 10,000 jobs, with an initial capacity of 2 million scooters a year and making it the world's largest scooter manufacturer. Ola will use this facility to serve customers in India as well as across Europe, the United Kingdom, Latin America, and ANZ (Australia and New Zealand).

With 5,000 robots stationed across various functions, this factory is going to be amazing and technologically advanced. It will follow industry 4.o principles. Siemens' integrated Digital Twin design and manufacturing solutions will be available to Ola in the future to validate product and production ahead of actual operations.

The manufacturing process will be deeply integrated with Ola's AI Engine and technology stack. As a result, the operations are controlled, automated, and of high quality.
The scooter from Ola combines excellent design, sensational performance, and incredible technology into a product of exceptional quality. Several prestigious design and innovation awards have already been won by the product, including the IHS Markit Innovation Award at CES and the German Design Award.
About Ola
Ola has simplified the process of booking a cab. Ola takes care of everything, from easy payment options to keep passengers entertained on the go with 'Ola Play. Ola now offers self-driving cars as well. Whether you want to take a self-drive or a cab, Ola has a wide range of cars available to you based on your budget, convenience, and the number of passengers. One can travel within the city by sharing a taxi, an auto, a bike, or even an e-rickshaw through Ola.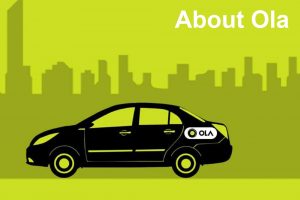 Ola outstation allows one to travel outside the city, while Ola rentals allow one to rent a cab on an hourly basis. Also launched by Ola is 'Ola select,' a subscription-based membership program that offers premium benefits on rides. Ola pedal, Ola's bike-sharing service, is already a big hit on the IIT Kanpur and IIT Madras campuses with over 500 bikes.

Ola launched Ola corporate in 2016. When employees book rides through Ola corporate, the fare is deducted from the company's Ola corporate prepaid account. Consequently, companies can monitor their employees' travel expenses and ensure their safety.

In addition to Ola money, Ola introduced the Ola app. There are four products offered by Ola money: Ola money credit card, Ola money postpaid, Ola money mobile wallet, and Ola money hospicash. With Ola hospicash, policyholders can claim Rs. 5000 per day for hospitalization if they have a Religare health insurance policy.

Ola operates transparently. Drivers receive commissions for every sale they make. Compared to other taxi services, Ola charges much less. With the acquisition of FoodPanda in December 2017, Ola also forayed into the cloud kitchen segment.

Ola launched India's first multimodal electric vehicle project on 26 May 2017. Experts from the automotive industry and the Indian government partnered to promote electric vehicles in Nagpur and to pioneer shared mobility. You can rent 200+ electric cars in Nagpur through Ola's app. Ola Electric Mobility Pvt. Ltd. has been established as a separate entity. SoftBank invested $250 million in July 2019 to make LTD a unicorn.

Ola Electric raises $100Mn in debt financing from the Bank of Baroda, said to be the largest long-term debt financing agreement in the Indian EV industry. The proceeds will be used to fund and complete the first phase of the development of the manufacturing facilities of its electric two-wheelers, located in Chennai.

In its December 2020 statement, OLA announced that Phase 1 of the factory would be built with an investment of Rs 2,400 crore.
Ola – Industry Details
The Indian taxi-hailing market is worth more than $40 billion. Market size is expected to increase by 6.3% between 2022-2024. The increase is attributed to the changing lifestyles of travelers and the growing disposable incomes of consumers, especially in Tier-I and Tier-II cities.
Ola – Founders
Ola was founded by Bhavish Aggarwal and Ankit Bhati in 2010.
Bhavish Aggarwal, the founder of Ola, graduated from IIT Bombay with a B.S. In the year 2008, we graduated with a BSc in Computer Science. Bhavish, the owner of Ola Cabs, worked for Microsoft Research in Bangalore for two years after college.

During his time at Microsoft, he published three research papers in international journals and filed two patents. Before founding Ola Cabs, he built an online company to sell short-duration tours. As CEO of Ola, Bhavya Aggarwal now leads the company. Bhavish Aggarwal is just 35 years old and was born on 28 August 1985! According to 2019 data, his net worth is estimated to be around $350 Million.

In his role as Ola's technical leader, Ankit Bhati ensures the company's customers and partners receive an intuitive and convenient experience. Upon joining IIT Bombay in 2004, he completed a B.Tech in Mechanical Engineering and an M.Tech in CAD and automation. By 2009, he had already contributed to several startups like Wilcom, QED42, etc. Ankit finally decided to give up his nomadic professional life for his own start-up. He became part of the Ola Cabs journey in November 2010.
Ola History – How was Ola Started?
The launch of Ola took place on 3 December 2010. Ola's beginnings are interesting. Bhavish Aggarwal, founder of Ola, was born and raised in Ludhiana like any other successful entrepreneur. Bhavya started an online site called Olatrip.com that offered holiday packages and weekend getaways.

Bhavish had to rent a car to travel from Bangalore to Bandipur to keep his tour and holiday planning business afloat. It was a horrible cab ride! Bhavish's driver stopped the car in the middle of the journey and demanded that the price be renegotiated. After being refused, the driver abandoned Bhavish en route to his destination.

He realized that his plight was probably similar to many other customers looking for quality cab services across the nation. Bhavish realized the potential of a taxi booking service, so he transformed Olatrip.com's business model into the one we know today as Ola Cabs.

In addition to Bhavya, Ankit Bhati was onboarded as an executive to lead the company. He wasn't supported by his parents when he was planning his startup. Moreover, they were unhappy that he became a 'travel agent.' Even so, his parents became supportive of his business as soon as Snapdeal's Kunal Bahl, Rehan Yar Khan, and Anupam Mittal invested in OLA).

A scalable model is a key to implementing a good business idea successfully, according to Bhavya. A safe business model, in his opinion, is one where one has zero inventory.
Ola – Business Model and Revenue Model
The business model of Ola is simple. In addition to providing cab-booking services, it also acts as a facilitator. Through the app, customers can book cabs. Cabs are not owned by Ola. There is only one way to sign up with Ola; driven with a valid permit duly authorized by the transport authorities, either employed by themselves or by operators that have multiple cars.
Once registered with Ola, drivers also get access to a driver-specific mobile app on their smartphones, just as we as customers do. This is done only after a thorough check of authenticity and conducting due diligence of the commercial papers and the personal papers of both the driver and the operator. The drivers have the flexibility to decide their own time to log in to the Ola application and accept requests for rides from customers. They may choose to remain logged out of the system as per their convenience. Ola takes a commission of 15% on average on all the bookings done through the app.
Ola considers the following factors to create the final bill for the user:

Base Fare – Charged flat.
Distance Fare – Charged kilometer-wise (different for different cities).
Ride Time Fare – Charged on the time taken to travel.
Peak Pricing – Direct ratio depending on the demand for cabs.
Service Tax – 5.6%.
Swachh Bharat Tax – 0.2%.
Toll Charges – Toll Collection in case you cross toll junctions in the journey.
Ola – Funding & Investors / Valuation
Ola has raised approximately $4.3 billion in funding over 26 rounds. Additionally, secondary markets and debt financing are included. In October 2019, Ola's valuation reached $6.2 billion, but as a ride-sharing company, Ola suffered unimaginable losses due to the pandemic and the nationwide lockdown. Following the large-scale lockdown announced in India in late March 2020, the company's revenues dropped by over 95%. As a result, Vanguard marked down the value of its holdings, which brought down revenues to $3.3 billion. The reports indicate that T Rowe Price and Vanguard Group reduced their revenue in 2019-20.

The latest funding was raised on July 9, 2021, from a Pre-IPO round.

Ola – Startup Challenges
Ankit Bhati and Bhavish Aggarwal had challenges to overcome at first. Ankit, the co-founder of Ola, worked long hours and sometimes had to code for 48 consecutive hours. At times, they have had to drive the customers to their desired locations because the drivers didn't show up. However, this did not dampen their spirits. As a result of their services, people began to like them.

When angel investors Rohit Bansal and Kunal Bahl invested Rs 2 crores in their business, their story took a turn for the better. Ola was able to gain an initial push and did not look back after that.

As much as Ola wanted to scale its business to different cities, each city faced its own infrastructural challenges. A 2G network was required to run the app. In order to design an app for smaller towns, it needed to accommodate network connectivity.