The procedure of developing smart device apps is time-consuming and pricey. It is therefore crucial to have a high return on investment. A mobile app development company in Canada can take your business to new heights if its developers are dedicated to the project. Further, if the apps reach with an efficient design that's proven to be secure, both businesses and users will be satisfied.  
The dedicated development team is a long-term collaboration between a customer and an outsourced development team. Collaboration in this form is one of the most famous, along with the fixed price (FP) and time and materials (T&M). In collaborating with a dedicated software development team, you get a team of experts selected specifically for your business needs.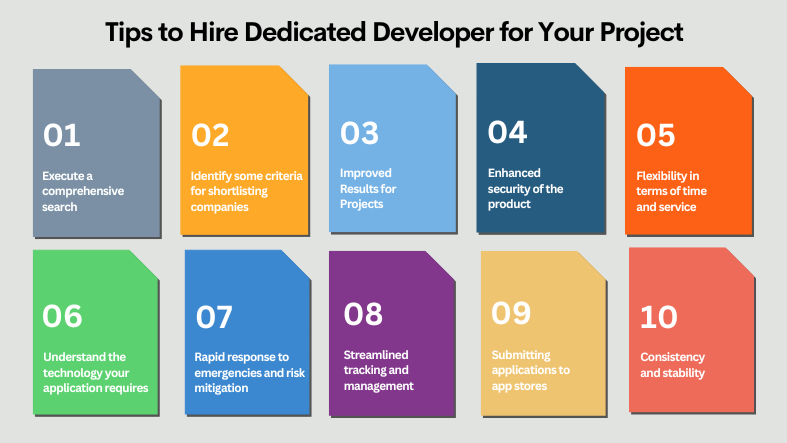 1. Execute a Comprehensive Search
As a buyer, you should also conduct research into the project you are funding both time and money. It is recommended to ask around, exploring what the competition is doing, who they are hiring, and the kind of knowledge they have. Take a glance at some rankings and reviews of some of the top-ranked companies in your area.
2. Identify Some Criteria for Shortlisting Companies
It is overwhelming and impossible to study hundreds of Information Technology service companies. It's necessary to avoid being exhausted at the start of the project. Compare how each company fits your project plans, and then contact them for more information. Select companies that are offshore in your area. 
Companies in Canada offer offshore development services at a relatively lower cost. By using a criterion like this, you can automatically check down your choices. Although this may take a lot of time, you will be capable of shortlisting and selecting the right applicants.
3. Improved Results for Projects
Freelancers usually lose track of projects or become overburdened with countless tasks. They don't usually hold themselves accountable for their projects and are not suitable. In addition, if any issues arise during the development or afterward, you can contact a software development company in Canada.
Such a scenario is one where having a team of committed resources can be extremely beneficial. They deliver the results you desire from your project because they are highly committed. You have a team to assist you whenever you need it, whether it is a project delay or some other issue. Finally, you get better results on all your projects.
4. Enhanced Security of the Product
Recent data leaks and constant attacks by hackers risk privacy. Thus, customers need to select developers with experience designing apps. As a customer with the objective of scaling your business, it is imperative that you ensure the security of your web and mobile applications. Based on prior work and success rates, select the best ecommerce app development company in Canada.
5. Flexibility in Terms of Duration and Services
Every customer approaches us with a different need. Developing an app from scratch, fixing a specialized issue with your existing app, or upgrading your app may be something you're examining for. For a task that can be achieved in hours, you don't need developers to charge a fixed monthly fee.
6. Understand the Technology
There are additional technologies that work with different apps. You should therefore be clear about the function and goals of your application. For example, if you need an iOS mobile app developer for your business, you should find an iOS app development company that has dedicated developers who are specialists in iOS. 
You can't use an app development company that specializes in Android apps because the technologies utilized to create apps for different platforms differ. Search for companies with diverse technological expertise. Technology keeps growing, so if you want to perform with an organization that does so, be sure they keep up with it.
7. Rapid Response to Emergencies
As soon as you deploy your project, you realize that you need to increase or reduce resources depending on the current workload. Even though maintaining scalability is important, there are other cases in which you might need your mobile app development team's help as soon as possible.  
Dedicating resources to this task will help you well in the long run. Professional development companies offer 24/7 client service in addition to seamless communication systems. Your dedicated team can assist you instantly regardless of time or geographical differences. 
8. Streamlined Tracking and Management
It is also necessary to leverage their project management when you hire dedicated developers from an experienced mobile application development company in Toronto. Dedicated project managers are allocated to you to act as your single point of contact. From now on, you can reach out to the project manager instead of reaching out to different resources, making your task easier. 
The majority of software development companies use a fully featured project tracking program. It will let you know how your project is doing and give you an idea of the path it's taking. Your team can be assigned clear tasks from here, as well.
9. Submitting Applications to App Stores
A developer should reveal whether or not the submission of the application to the Apple App Store is included in the project. It is possible for developers to charge fees that are contained in the submission rate or charge an additional amount. Before employing a developer, you should ask about this so that there will be no coming disappointments.
10. Consistency and Stability
If you need dedicated resources to maintain your project after it is completed, the best software development company in Canada can provide them to you. These companies are stable and secure business continuity, which gives them an edge over their competitors.