Costa Coffee has recently launched its Coffee Club app, aiming to give users an alternative to the old plastic loyalty cards.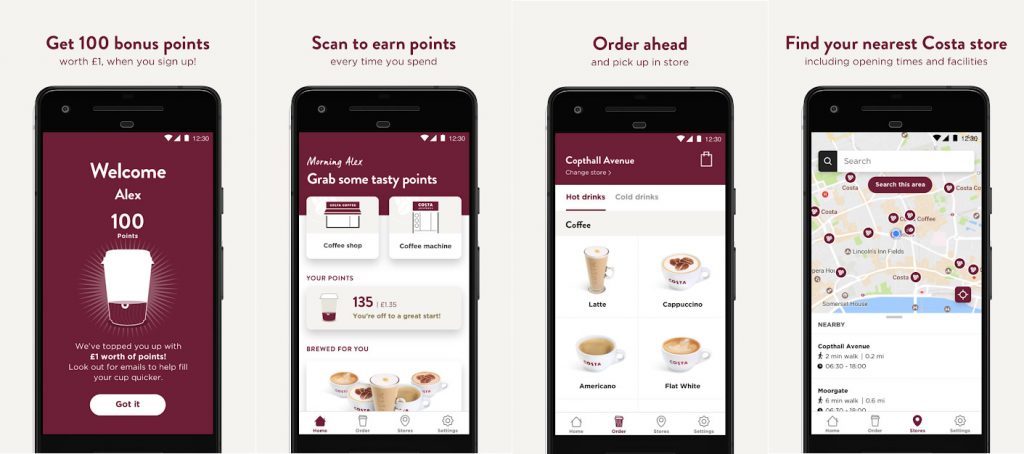 Voted the UK's favorite coffee shop for the eighth year in a row in 2018 by an independent judging panel, Costa Coffee is doing a fantastic job catering to the tastes of UK customers. Having first reported UK sales of over £1bn in 2016, the brand operates the largest coffee chain in the UK, and also the second largest in the world! Until recently, the most exciting news about Costa Coffee was the announcement by The Coca-Cola Company that they have agreed to buy the business in 2019, however for UK consumers, it's their "digital revolution" and a "Great Brew. No Queue." promise that will make the most difference in their everyday lives.
Costa Collect
According to Whitbread PLC which has owned and operated Costa Coffee since 1995, over 1.3mn people have downloaded the Coffee Club app, and like many loyalty apps, it was designed for purely marketing purposes with no operational relevance. With the launch of Costa Collect in over 100 London stores, the app now offers mobile ordering and payment capabilities – benefitting Costa's store operations and also its customers. This enhancement allows staff to focus on crafting custom drinks for customers instead of processing points and payments, following the industry leader Starbucks, who have offered mobile payments in the US since 2011, and mobile orders since 2015, both with massive success. As the industry leader globally, 30% of its US customers use mobile payments, and 11% of the order and pay on their mobile.
Starbucks app users "spend approximately 3x more than the average Starbucks customer" proving to many brands that innovation and efficiency truly do drive customer loyalty.
Here's how the Costa Collect feature works in practice: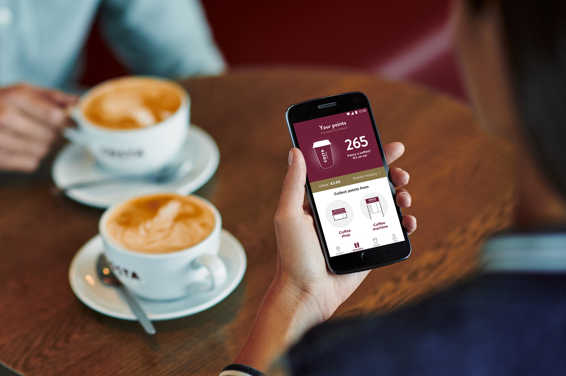 The new feature called "Costa Collect" was initially trialed in 2017, and allows customers to place their order and make payment in advance on their mobile phone, for collection in a nearby store.
With over 100 London stores now offering the service, the company is just now beginning to promote the service with limited announcements in social media channels. No UK press releases have yet been issued about the service – showing a cautious approach to managing customer expectations.
Not all menu items are yet available with this service which is focused on top-selling items currently.
The Costa app accepts all UK-issued credit cards except American Express.
Coffee Club points are tracked and issued for mobile orders exactly as they are for in-store orders.
At the time of the order, Costa Coffee estimates the time required for each order to be ready for collection. Orders not collected within 15 minutes of that time are disposed of and can no longer be collected. No refunds are offered to these customers.
Here's how the brand's loyalty program "Coffee Club" benefits customers:
Customers earn 100 points for registering and joining.
Both plastic cards and an app version are currently in use.
The customer's earning rate is 5% with 5 points earned per £ spent in-store or on the app.
In addition to the points benefits, members enjoy unlimited free wifi, special invitations, and exclusive offers.
Originally only customers buying their coffee in Costa Coffee stores were awarded Coffee Club points, however with recent technology enhancements, now even customers using any of the 6,000 UK 'Costa Express' self-service machines can also enjoy the loyalty program's recognition and rewards.
Source: Liquid barcode
Let's create something
Great together!