H&M is a Swedish mass-market brand of fashion clothes and accessories. Experimenting with mobile technologies, it's searching for new ways to improve the virtual experience of finding, trying on, and purchasing clothes. One of the examples is the Perfect Fit app. The app is now being tested in Sweden. With the help of Perfect Fit, customers can create their digital avatar based on selfies they took. The avatar can be used to try on clothes while shopping online, as it will have approximately the same body proportions as the owner.
To withstand competition, H&M  implemented an image search right in their app. It's basically a google image search for H&M clothes. It allows you to scan the image on the billboard, or Instagram, to find similar clothes by H&M. The app uses smart algorithms to pick the relevant results from the search, compiling a list of matching items.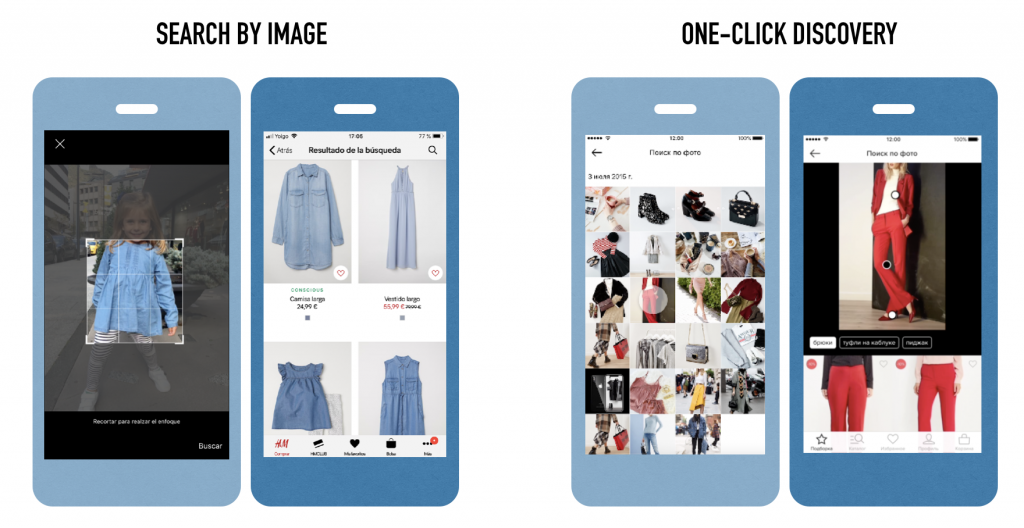 An example of an H&M image search
Source: http://blog.wide-eyes.it
The items can be purchased from the search page so that it can be considered as a smart move to drive customer attention to the H&M brand.
Let's create something
Great together!